Missing girl Molly Owens, 5, and father 'in Ireland'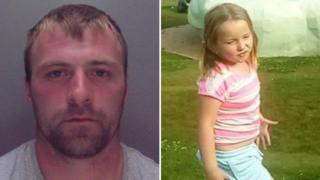 A five-year-old girl who has been reported missing is thought to be with her father, who failed to appear in court.
North Wales Police believes Molly Owens, of Holyhead, Anglesey, is with Brian George Owens, 26, in Ireland.
He was due to be sentenced by Caernarfon magistrates on Friday.
Supt Jane Banham said investigations were ongoing and officers were "in close contact with their colleagues at the Garda".
Officers believe the pair are accompanied by a women named Elaine Doutch.
"We just want to ensure that Molly is safe and well and are issuing a direct appeal for her to be returned home," Supt Banham said.
Owens was due in court to be sentenced for three counts of assault by beating of the same woman on three different occasions. He was also convicted of one charge of sending an offensive, indecent or menacing message.
A warrant has been issued for his arrest.
Molly has shoulder-length blonde hair and blue eyes and sometimes wears pink glasses. She was last seen wearing a dark blue T-shirt with a light coloured pattern on the front, blue jeans and trainers. She is also believed to be carrying a teddy-like toy.
Owens is 5ft 9in tall with a slim build, short brown hair and blue eyes. He was last seen wearing a white top, dark trousers and trainers and is carrying a blue jacket.