Woman 'devastated' after weight loss leads to ring loss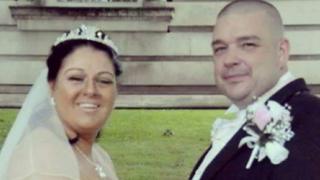 A woman who slimmed from a size 20 to a size 10 said she is "devastated" after losing her loose engagement, wedding and eternity rings in Conwy county.
Wendy Rowles, 33, thinks they slipped off her finger on 26 June either while she was shopping in Llandudno or on the school run in Llansanffraid Glan Conwy.
She used a ring adjuster to hold them in place after losing four stone (25kg) and now weighs under 10 stone (63kg).
The rings, worth between £1,500 and £2,000, were not insured.
She said of the moment she realised they were missing: "I felt sick. I was just absolutely devastated. I love those rings."
And then she had to tell her husband: "I thought 'he's going to kill me' but he was all right but still absolutely gutted.
"The rings just mean so much to us."
Mrs Rowles and her husband Christopher have searched their home, car, retraced her steps, displayed posters in Asda Llandudno Superstore and Llansanffraid Glan Conwy village and visited pawn and jewellery shops but have been unable to find the missing jewellery.
But she has not lost hope: "Perhaps someone has them and doesn't know what to do with them. I'm really hoping someone will hand them in."
North Wales Police said if found, the rings should be handed into a police station, to a police officer or a police community support officer.