Gwynedd's Cake Crew gets £500k loan to help create jobs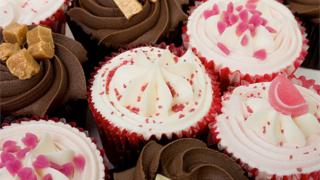 A Gwynedd cup cake supplier is to expand its business after a £500,000 cash injection from Finance Wales.
The Cake Crew, in Bala, employs 240 people and makes cakes for Tesco, Sainsbury's, Morrison's and Aldi.
It hopes to use the loan to create new jobs but has not been able to say how many.
Rhodri Evans, of Finance Wales, said The Cake Crew was a "great example of a local success story".
The money comes from the Wales Business Fund, the Welsh Government pot - partly funded by EU cash - designed to support small to medium-sized enterprises to deliver sustainable economic growth and jobs.
The Cake Crew's managing director, Simon Faithfull, said the firm had seen "substantial growth" over the past few years.
"The funding provided by Finance Wales is enabling us to expand, supporting employment and our contribution to the north Wales economy," he added.
Finance Wales, which uses money from the Welsh Government and other investors, makes investments in Welsh-based businesses, from £1,000 to £3m.