Fraud bus boss David Hulme to repay £42k to council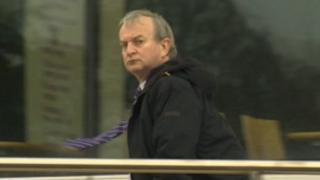 A former bus firm managing director who made false claims about concessionary fare passenger numbers has been ordered to repay £42,894 to Gwynedd council.
David Hulme, 56, of Glan Seiont, Caernarfon, was jailed for six years last March for fraud and false accounting.
He had claimed £495,857 for the company between July 2011 and December 2012.
Caernarfon Crown Court heard during a proceeds of crime hearing he had benefited from the fraud by £87,683.
Judge Huw Rees ordered an eight-month jail sentence if the money was not repaid to Gwynedd council within three months.
Fellow firm owner Darren Price had pleaded guilty to false accounting and was sentenced to two years and three months at the same time as Hulme.
Padarn Buses went into liquidation after the offences were discovered, with the loss of 84 jobs and debts of £2.38m