£1bn Anglesey biomass plans on course insist backers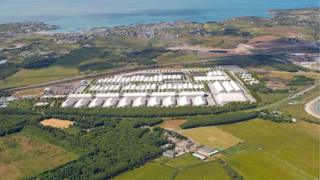 Plans for a combined biomass power and food plant on Anglesey remain on track despite Chinese investors pulling out, developers have said.
The Orthios eco park on the former Anglesey Aluminium site promised to bring 500 permanent jobs and a further 1,200 during construction.
The firm has confirmed that a funding deal with the Sino Fortune Group ended "many months ago".
Despite this, Orthios said planning requests will be submitted soon.
"Orthios still remains committed to the development of the first eco park in Anglesey," said a spokesman for the company.
"A planning application for the next phase of the eco park development of the Anglesey site will shortly be submitted, with an anticipated public consultation this spring."
The development at Holyhead is expected to generate 299MW of electricity, which is enough to power about 300,000 homes.
Spare heat generated in the process would then be used to warm indoor ponds for king prawn farming. The UK currently imports king prawns.
The project team said it was "working with leading advisors to finalise the financing" for the eco park, and that Anglesey council was aware of the developments.
Dylan Williams, head of economic development at Anglesey council said: "Obviously the financial situation has changed.
"There was no formal funding agreement, but our understanding is that they are looking for different sources."