£2m Caernarfon steam railway station work begins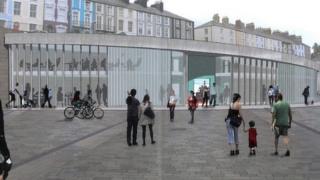 Work has begun on a £2m steam railway station in Gwynedd.
The Ffestiniog and Welsh Highland Railway - the UK's longest heritage line - is behind the scheme in Caernarfon and hopes to attract 5,000 extra visitors to the town each year.
Funding has come through the Welsh Government's Vibrant and Viable Places programme, but a water pipe had to be moved before work could start.
The station is expected to open in Spring 2018.