Organisers 'gutted' as Amlwch's Copperfest festival ends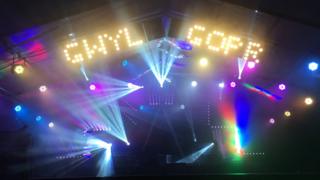 Anglesey music festival Copperfest has decided to "call it a day" after 10 years because of financial and health and safety pressures.
Organisers said they had no choice but to end the free festival, which they say has entertained 150,000 people and hosted 250 bands.
Festival committee member Arwel Hughes said he was "gutted", but that the festival "ended on a high" last year.
Anglesey council said the festival had helped put Amlwch on the map.
Mr Hughes said it was getting "increasingly hard" to raise the £34,000 a year needed to run the three-day festival, held on August Bank Holiday.
He added: "There is no problem in getting the help locally - but a few restrictions can become a pain.
"Last year we did want to charge for tickets, but we were told we weren't allowed."
Privilege
The festival featured dozens of acts over four nights in 2016, including Welsh language artists Candelas, Elin Fflur and Geraint Jarman.
In a statement on their Facebook page, organisers said they hoped someone would "take up the baton and keep it going".
They added: "The last ten years have been amazing to say the least, to watch something grow so steadily and (become) so successful. It has been our privilege to welcome you all to Amlwch and watch some amazing artists and performers.
"It just goes to show what a small determined group of people can achieve."
Anglesey Council's Leader, Cllr Ieuan Williams paid tribute to the Copperfest organising team.
He said "They have given us 10 fantastic years of entertainment and have really helped put Amlwch on the map, and I've personally enjoyed many a night listening to the live bands with family and friends. Over the last decade Copperfest grew into a key event in Anglesey's calendar, attracting visitors from all over Wales to enjoy live music."