Classrooms move after Storm Barbara damage to Gwynedd school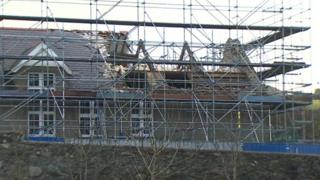 Pupils from a storm damaged school in Gwynedd will be educated in community buildings when they return from the Christmas break on Thursday.
Ysgol Rhosgadfan, near Caernarfon, had part of its roof ripped off by Storm Barbara on 23 December.
Classrooms have since been set up in a local sports club and Cae'r Gors education centre.
Gwynedd council said they are still assessing the damage of the school.
Councillor Gareth Thomas, who is responsible for education at the council, said it was a temporary solution.
"The important thing is the education of the children and they will still be educated in the village," he said.
"We are still assessing the damage and the time it will take to refurbish the school."
Mr Thomas said they were also looking at getting temporary cabins in the "medium term".
Ysgol Rhosgadfan headteacher Paul Carr said it was hard work to get the classrooms ready but they have been able to get some resources and equipment from the school.
He thanked the community for "pulling together" to help them relocate.