Bangor teenager's snoozing piglets close-up wins award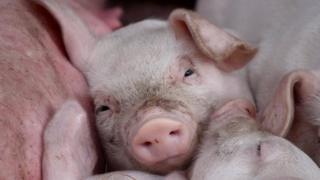 A close-up photograph of snoozing piglets taken by a teenager from Bangor is among the winning shots in an RSPCA award.
People aged between nine and 18 were asked to capture animals on camera for the Young Photographer Awards.
Lily Edwards, 16, photographed the moment a piglet snoozed with its siblings, which she called "Nap Time", earning her a runner-up place.
She said it looked "so peaceful and happy".
"I took this photo at a local farm. As I was taking a photo of the piglets sleeping, one opened its eyes," she said.
Springwatch presenter Chris Packham who judged the entries said: "These young people are going out and experiencing the environment around them and in their local area. It is just fantastic."