Grade II sundial stolen from Conwy churchyard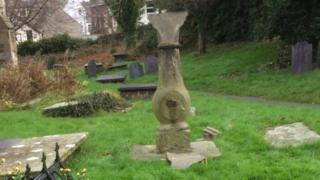 A Grade II listed sundial dating to 1761 has been stolen from a churchyard in Conwy and its stonework smashed.
The stonework holding the bronze sundial at Conwy church was smashed into three pieces.
Rev David Parry, vicar of Bro Celynnin, said the theft was noticed on Friday morning and reported to police.
"It's very sad. In taking the top, the thieves have severely damaged the stone. It's been part of Conwy's history for a long long time," he said.
"It's a well known landmark, listed in its own right, and we're at a loss to know why someone would want to damage this."