Porthmadog family home 'wrecked' by mobile phone fire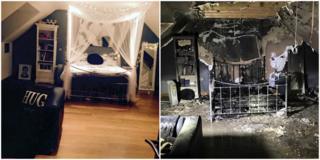 A teenager's bedroom has been reduced to ashes after an overheated mobile phone battery caused a fire.
The 15-year-old girl escaped the fire at her family home near Porthmadog, Gwynedd, but lost all her belongings.
Her mother, Gemma Durant, said "we are all okay" but the house was "wrecked" in Tuesday's fire.
North Wales Fire and Rescue Service issued advice about how mobile phone chargers should be used.
It also advised people to only purchase them from a "reputable source" and to charge phones on a hard surface and not on a combustible surface such as bedding.
Ms Durant said: "Everything upstairs has also been destroyed due to heat, smoke and water damage, nothing can be saved.
"Downstairs has been flooded due to the volume of water that had to be pumped in to extinguish the fire."
She added: "Although the fire was contained to one room the after-effects are enormous, we may well have lost almost all of our possessions."
They may now have to wait six months before they can return home.