100 imported puppies rescued at Holyhead Port by RSPCA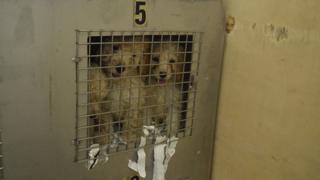 Almost 100 puppies have been rescued at Holyhead Port on Anglesey as part of an operation tackling illegal animal importation.
The various breeds arrived in vans on two separate ferries before being intercepted by Border Force on Tuesday.
The puppies, most just six or seven weeks old, were travelling in "filthy" conditions.
The RSPCA said to "unscrupulous dealers, these young pups are nothing more than a cash bonanza".
The charity has labelled the incident as a "shocking example" of the scale of the puppy trade.
After being inspected by a vet, the puppies have been transported back to Ireland where they will be cared for by the RSPCA before being re-homed.
The breeds included beagles, basset hounds, labradoodles and Pomeranians.
Ian Briggs, from the RSPCA's special operations unit, said dealers would have been targeting tens of thousands of pounds from these shipments of puppies.
"This is another shocking example of people being readily prepared to act illegally and compromise the welfare of defenceless animals to make a quick buck," he said.
"Fortunately, they were stopped in their tracks."
The RSPCA worked with a number of agencies to target the puppy dealers, including North Wales Police.
Gareth Pritchard, Dep Ch Con of North Wales Police, said illegal puppy importation is a "concern for many police forces".
"These activities can cause severe animal welfare problems and provide revenue for criminals," he said.
"We will continue our discussions with the Welsh Government and Defra to seek improved controls on importation."