Ex-town councillor and youth worker jailed for sex offences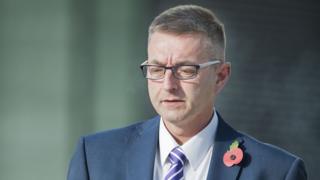 A former town councillor and youth worker has been jailed for sex offences against a 14-year-old boy.
John Reaney, 51, resigned from Colwyn Bay Town Council last summer after he was charged.
He denied inciting a child to engage in sexual activity and sexual touching as he thought the boy he had met on a gay dating site was 16.
He was sentenced to 16 months at Mold Crown Court and placed on the sex offender's register.
The court heard Reaney picked the boy up in a car park and then drove him to his home on 29 June last year.
Reaney said he "asked him and asked him again" about his age.
"I probably should have walked away, but I didn't. I probably got swept away in the moment," he said.
Judge Niclas Parry told Reaney he "knew in his heart" the boy was under 16 and that his "sexual urges" overcame his reason.
Judge Parry accepted there was no pre-planning and no element of grooming until Reaney met the boy.
Reaney was described as a talented man with a "heart of gold" and a "committed Christian" by those who gave references.
He served as a town councillor in Colwyn Bay from 2012 to 2015 and gave concerts to raise money for charity.