Lack of Blaenau Ffestiniog banking facilities 'unacceptable'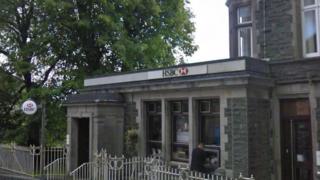 The lack of banking facilities in Blaenau Ffestiniog has become "unacceptable and frustrating", councillors and residents have said.
The Gwynedd town's HSBC bank shut in September, leaving it with one out-of-hours ATM machine.
Its customers do not have a full range of services at the post office but customers of the former Natwest do.
"Something should have been put in place before the closure of the bank," Councillor Mandy Williams-Davies said.
She added that the town's growing tourism industry could be affected, and another ATM is urgently needed.
HSBC said talks have taken place with a third party ATM supplier.
But a spokesman said: "It was agreed that as there are three ATMs in Blaenau Ffestiniog, one of which is 24 hours, it is not something they would go ahead with."