Harlech theatre closes due to health and safety concerns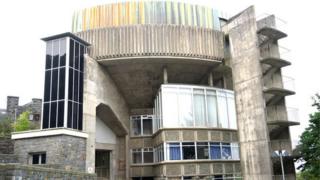 A theatre in Gwynedd has been forced to close because of health and safety concerns.
Site managers have instructed Theatr Ardudwy in Harlech to shut after deciding the building posed a "risk to the public".
A showing of The Magnificent Seven has been postponed along with an art event on Saturday.
The theatre said it was seeking "legal advice".
It is unclear if events scheduled for later this month will go ahead.
Earlier this year, a digital cinema costing £100,000 was installed in the theatre.
'Big shame'
The theatre's artistic director Siri Wigdel said: "It is a big, big shame. We have had an incredibly successful season since we reopened on 1 May.
"We still have a five-year-lease left on the building. We are dealing with the practicalities of how we carry on with our programme."
Chief executive Mark Isherwood, of Workers' Educational Association YMCA Community College Cymru - who manages the site - said that it was helping the theatre to "find a new venue to accommodate its activities".
He added: "Surveys show that deterioration of the Theatr Ardudwy building poses a risk to the public.
"While options for its future are considered, we need to ensure that public safety is fully recognised and that appropriate steps are taken."
Gwynedd council said it was disappointed the theatre had to close and it was in contact with board members to discuss the consequences on the future of its activities and the cultural provision in the area.