Anglesey council nappy bin age limit plans scrapped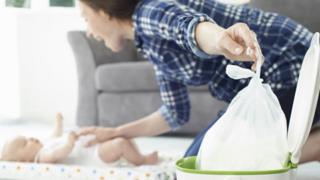 Plans to ban parents from using a new nappy collection service on Anglesey if their children are older than three have been scrapped.
It follows a backlash from families were also told they must provide birth certificates to show they are eligible.
Anglesey council said on Thursday changes had been made meaning parents would not have to provide a copy.
Children up to the age of four, rather than three, will now be eligible for the service.
Applications for older children will be considered on a case-by-case basis.
From October, black bins in the county will be collected every three weeks, but the new service means parents do not have to wait more than a fortnight to dispose of youngsters' nappies.