Underground Snowdonia quarry power cable plan approved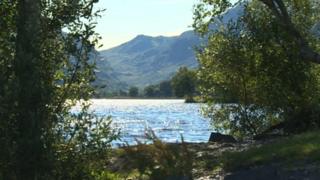 Plans to connect a proposed hydro-electric power plant in Snowdonia with the National Grid will use underground cables, it has been agreed.
Backers want to build the £100m pumped-hydro scheme at a disused quarry in Llanberis.
Gwynedd council planners have approved the bid to run cables from the Glyn Rhonwy site in Llanberis in trenches to the grid connection at Pentir.
The five-mile (8km) route will take a year to complete.
Final approval for the entire 99.9 MW power scheme has yet to be granted, with a decision expected from the UK business and energy secretary Greg Clark by spring 2017.
The power plant proposals have proved controversial after opponents claimed chemical weapons were dumped at the site after World War Two when it was an RAF ammunitions store.
But developers Snowdonia Pumped Hydro have always insisted that the site was cleared by a Ministry of Defence clean-up in the 1970s.