Human bones mystery uncovered at Anglesey church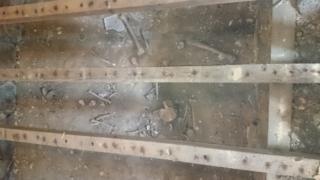 Archaeologists have uncovered the remains of at least six people hidden under a church floor on Anglesey.
The bones were discovered during a project to clean and restore a rare alabaster stone tomb at St Gredifael's Church near Menai Bridge.
The tomb at Penmynydd is of Goronwy Tudur and his wife Myfanwy - part of Tudor family dynasty.
Experts believe the bones could have been disturbed after earlier Victorian renovations.
"There are at least half a dozen bodies that have been disturbed in the century when that work was done, and there are at least half a dozen other people under the floor too," Spencer Smith from Gwynedd Archaeological Trust told BBC Radio Cymru's Post Cyntaf.
His team was called in to help record the finds as work to renovate the tomb began.
One of the first jobs has been to replace the rotten wooden floor beams, which have been struggling to cope with the weight of the sculptured tomb above.
"It is extremely heavy - some tonnes - and the idea has been that we move it across the floor of the church," explained Owain Evans, one of the friends of the church group.
"But the floor is made of wood and has rotted, so we will strengthen it before moving the tomb piece by piece."
Archaeologists at the site said it had been a custom to bury the rich inside the church, and over time most of those bodies would be moved to graves outside.
However, in the case of St Gredifael's it is clear those human skeletons remained.
The church no longer holds services but because of its links to the Tudor kings and queens of Britain it holds an important place in history.
Goronwy Tudur - of Gornw Fychan as he was known - died in an accident in 1382. He was the uncle of Owain Tudur, who in turn was the grandfather of Henry Tudor, who became Henry VII after defeating Richard III at the Battle of Bosworth.
His richly carved tomb was originally installed at the Llanfaes Friary, but moved to the church following the dissolution of the monasteries under Henry VIII.
In the 1850s, Queen Victoria donated £50 - about £5,000 today - to carry out repair work, including moving the tomb to its current spot in the church.
Spencer Smith said the tomb was remarkable, adding: "They are so important, and it looks similar to those monarchs are buried in."