Ysbyty Gwynedd drop in diabetic patient limb amputations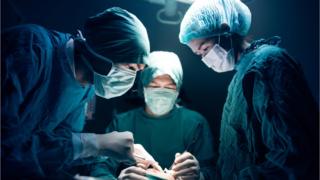 Doctors at a Bangor hospital say there has been a big drop in the number of diabetic people having legs or feet amputated.
Ysbyty Gwynedd's 2015 figure was 1.4 major amputations per 100,000 people.
Staff said better co-ordination between medical and nursing staff has helped them to act quicker.
Having feet, toes or fingers amputated is a known risk for people with diabetes because they often lose sensation in their limbs.
Professor Dean Williams said losing a leg was a major issue for body esteem and independence.
He said: "The other limb's under threat as well, as it suffers greater stresses and strains, so there are lots of reasons to keep a limb attached to a person wherever possible.
"I find amputating limbs is always very disappointing - I feel like I've somehow failed. Sometimes you have to do it.
"But to get people back from the brink of losing limbs, or sometimes even life, and get them back to a real good quality of life is a real thrill."