Welsh Mountain Zoo: Chimpanzee has 21st birthday party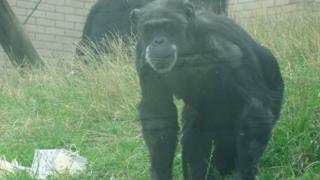 It was a case of many apey returns for a chimpanzee celebrating his 21st birthday at a Conwy zoo.
Keepers threw a party for Nickel - who was born at the Welsh Mountain Zoo in Colwyn Bay in 1995 - to celebrate the milestone on Thursday.
Nickel and the zoo's 10 other chimps were given some treats to unwrap.
Head keeper Michelle Pywell said: "It was wonderful to see the chimps all taking part in the celebration and sharing many presents."
Chimpanzees can live up to about 50 years.