'Fight arrest' at Llanllyfni v Prestatyn football match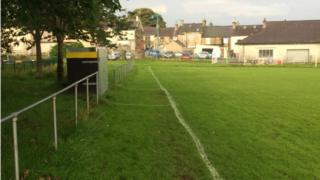 A football match in Gwynedd was abandoned on Saturday after an alleged violent clash.
Police and an ambulance were called to the Welsh Alliance division two match involving Llanllyfni and Prestatyn Sports football clubs.
Llanllyfni FC said one of their players was taken to hospital, while Prestatyn Sports confirmed one of their players was arrested.
North Wales Police has declined to comment at this stage.
Llanllyfni FC club secretary Kim Warrington said: "I have never seen anything like it."
David Jutson, secretary of Prestatyn Sports FC, said the row involved some players and supporters who went onto the pitch.