Concerns over 'reckless' powerboat users in Gwynedd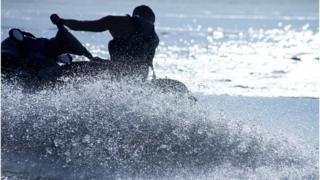 Calls are being made for action to be taken against "reckless" powerboat and jet ski users off the Gwynedd coast.
Residents claim a "small minority" of powercraft users off Abersoch beach have been speeding in an area reserved for swimmers.
They have launched a petition calling on Gwynedd council to provide a patrol boat to prevent accidents.
The authority said powercraft users who do not abide by safety regulations will not be allowed to launch.
A team of local authority wardens currently patrol the popular Llyn peninsula beach.
It comes after jet skiers and powerboat users have been accused of harassing dolphins and porpoises off the north Wales coast.
Concern
Deborah Donaldson, owner of Mickey's boatyard and beach cafe in Abersoch, said: "A small minority of jet skis and powerboats either don't understand the regulations or aren't adhering to them.
"And because Gwynedd council don't have a presence on the water, they are finding it really difficult to police the area.
"We understand that there are budget cuts but it is really difficult for the wardens to do everything.
"Some of the power crafts are behaving recklessly. We are all really concerned there will be an incident soon."
A Gwynedd council spokesman said all powered craft that uses or crosses Gwynedd council-owned or managed coastal areas must be registered with the authority, and abide by strict safety and wildlife protection regulations.
He added: "Craft that fail to abide by the regulations are causing a hazard and a potential danger to other beach users.
"Any craft not observing the relevant regulations will have their registration removed and will not be permitted to launch in Gwynedd.
"As a council, we would urge members of the public to report any anti-social behaviour with boats on the coast."