Snowdonia RAF helicopter fire: Wreckage recovered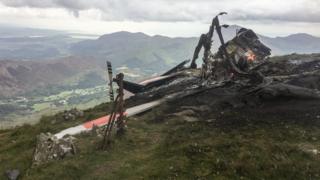 Recovery of the RAF helicopter which burst into flames shortly after the crew was forced to make an emergency landing began on Monday.
A Chinook helicopter from RAF Odiham in Hampshire was sent to recover the wreckage.
Five people were on the training aircraft when it was forced to land on Yr Aran in Snowdonia on 9 August.
All five escaped unhurt, but black smoke could be seen billowing from the peak for miles around.
Five people - four military and one civilian - were on board the Griffin helicopter from RAF Valley on Anglesey when it made what the Ministry of Defence called a "precautionary landing".
A sixth person involved in the training exercise was already on the mountain when the crew had to land.
The exercise involved the helicopter picking people up and putting them back down on the peak.