Double yellow lines painted around car in Llandudno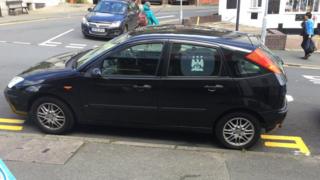 A holidaymaker parked his car outside a Conwy county B&B and returned two days later to find double yellow lines painted either side of it.
Retired plumber David Carroll, 60, from Stockport, Greater Manchester, was staying at Mostyn House Guest House in Llandudno, which he visits annually.
Mr Carroll called the situation "bizarre" and the B&B owner Bill Johnson said it was "unnecessary".
Conwy council said the lines would be completed when Mr Carroll leaves.
In a statement, it added: "If parked cars are present when our contractors have scheduled road marking work, and the owners cannot be found to be asked to move the car, then the contractor will complete as much of the work as possible, returning at a later time or date to complete the work."