'Nuisance' seagulls swoop on Llanfairpwll residents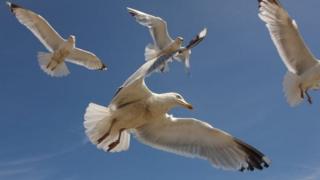 People living on Anglesey have said they are "at the end of their tether" due to seagulls.
Residents at Bryn Bras, Llanfairpwll, said the birds are noisy early in the morning, and that they pose a danger to small children as they swoop down.
The birds have been nesting at the estate for about two years.
Anglesey council said it had received complaints about the gulls - but its hands were tied as the birds are protected.
Some residents said they were afraid to take their dogs for a walk or eat in their gardens.
Janet Roberts said: "They're around the house about five o'clock in the morning waking everyone up.
"There is bird poo everywhere on the house walls and I have tried to get rid of it."
The council said it was a criminal offence to intentionally kill or harm any seagull, or to destroy a nest, and, therefore, the council was not able to provide any service to get rid of them.