Chris and Fiona Jones return home after sailing world for 14 years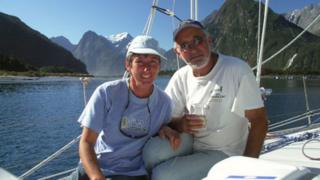 A couple who have spent more than a decade sailing across the world have returned to their home in Gwynedd.
Chris and Fiona Jones, of Y Felinheli on the Menai Strait, near Bangor, have spent the last 14 years sailing their 43ft (13m) boat Threeships.
Their 90,000 nautical mile journey has taken them to more than 40 countries since setting off in 2002.
A cannon salute from the Royal Welsh Yacht Club, Caernarfon, on Saturday marked their return to home waters.
The couple, who are ambassadors for the Ocean Cruising Club and taught sailing for two years prior to their trip, have kept a blog of their travels over the years.
Mrs Jones told BBC Radio Wales they did not expect to go away for so long.
"When we first set off we didn't really have any plans to circumnavigate. We thought we would just go sailing and see what we could see," she said.
"It's pretty difficult to choose a favourite spot. We loved a lot of places and loved meeting all different people.
"I suppose New Zealand was a highlight and so were some of the Pacific islands."
Route sailed since June 2002:
Y Felinheli
Falmouth
Portugal
Spain
Gibraltar
Balearics
Sardinia
Porto Santo Madeira
Canary Islands
Cape Verde
St Lucia
Martinique
Bequia
Union Island
Carriacou
Tobago Cays
Grenada
Trinidad
Nevis and St Kitts
St Barts
Antigua
St Vincent
Guadeloupe
Isle De Saintes
Dominica
St Maarten
British Virgin Islands
United States Virgin Islands
Venezuela
Dutch Antilles
San Blas Islands
Panama
Galapagos Islands
Marquesas
Tahiti
Society Islands
Tuamotus
Tonga
Fiji
New Zealand
Vanuatu
New Caledonia
Loyalty Islands
Australia
Indonesia
Singapore
Malaysia
Borneo
Brunei
Thailand
Krakatoa
Cocos Keeling
La Rodriguez
Mauritius
La Reunion
South Africa
St Helena
Ascension Island
St Peter and St Paul Archipelago
Grenada
Bermuda
British Virgin Islands
United States Virgin Islands
Azores
Y Felinheli - July 2016