PM Theresa May's Snowdonia gift for Angela Merkel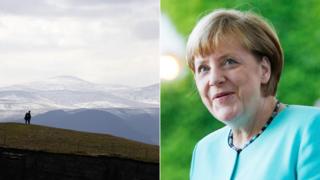 If German Chancellor Angela Merkel is spotted hiking through Snowdonia, tourism officials can thank new Prime Minister Theresa May.
When two of the world's most powerful women met for the first time in Berlin on Wednesday, Mrs May gave her German counterpart a guide to the national park.
The PM chose Great Mountain Days in Snowdonia.
The pair are said to be keen walkers.
Author Terry Marsh joked: "If I'd known I would have given her a signed copy."
Jonathan Williams, of the book's publisher Cicerone, said he was "intrigued and impressed" to learn about Mrs May's gift.
"I had heard that Theresa May was a keen walker and we know that Angela Merkel is as well," he said.
"Snowdonia is a great choice and if Mrs Merkel can fit the trip in we would be delighted to help ensure she had a great visit."
Mrs May also gave her the 1973 classic Coast to Coast, which covers northern England.