Gareth Vincent Hall withdraws US rape sentence appeal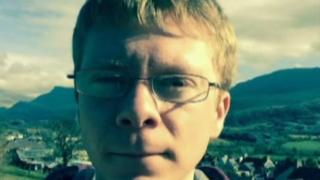 A Gwynedd lifeguard jailed for 50 years in the United States for repeatedly raping a child has withdrawn an appeal against his sentence.
Gareth Vincent Hall, 23, asked the Oregon Court of Appeals to drop his application, weeks after submitting it.
Hall, from Talysarn, was jailed in March after admitting four counts of rape and other sexual offences against a 10-year-old girl he met online.
His former lawyer said Hall had other avenues to challenge his conviction.
Hall flew to the US in April 2015, hired a car and took the girl to a hotel after contacting her online.
Her family learned of the rape after he returned to the UK and he was arrested in May 2015 after he again travelled to the US.
He was already under investigation by North Wales Police after being arrested in October 2014 on suspicion of committing offences online.
Following the arrest, Hall was suspended by Gwynedd council from his job at Arfon Leisure Centre, Caernarfon, where he taught children to swim.
Marc D Brown - who has now stopped representing Hall - said he could not say why he abandoned the appeal because of "attorney-client privilege concerns".
However, he said other options remained open to Hall under US law.
These include a procedure called post-conviction relief, where Hall could claim he was poorly represented by a lawyer.
This is a civil proceeding rather than a criminal one and must be applied for within two years of the final judgement.
Mr Brown said he was not sure if Hall intended to pursue another route while the Oregon Court of Appeals said it was not aware of any other appeal filed by him.
The appeal withdrawn by Hall related to the length of supervision he would undergo after being released from prison.
If he serves the full 50 years, he would be aged 72 on release, and the supervision term was set by the judge at a further 100 years after that date.
In court, Hall had claimed he thought the girl was 16 or 17, but the judge rejected it was "an innocent mistake".
A statement signed by the defendant when he pleaded guilty said he knew he would be jailed for at least 25 years with no prospect of early release.
His defence lawyer had argued he should get a sentence at the lower end of the scale.