John Arthur Jones guilty of shining lights at RAF jets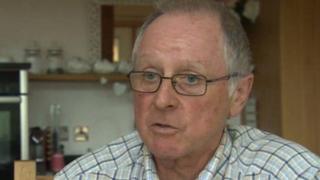 An "obsessed" man has been found guilty of repeatedly shining a powerful light at RAF jets flying over his house.
John Arthur Jones, 66, of Bodffordd, Anglesey, caused dangerous distractions to Hawk jet pilots on night training flights.
His denial of 13 charges of endangering aircraft between November 2013 and September 2014 was rejected by a jury.
Mold Crown Court heard Jones had a grievance against the RAF and had, at one stage, considered legal action.
Jones, a former councillor and council housing director, had told police that pilots were deliberately harassing him by flying over his property.
He said he would only use a torch to inspect his property and never deliberately shined it in the jets' cockpits.
But the prosecution said he was a "man on a mission" and kept detailed notes about flight activity above the RAF Mona landing strip.
Jones will be sentenced at Caernarfon Crown Court on 1 August.
Judge Geraint Walters said the fact that he was being bailed was no indication of the sentence he would receive.