Betws-y-Coed hotel row over the angle of Welsh flags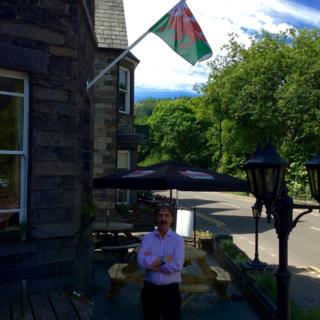 The position of two Welsh flags outside a Conwy hotel has led to an argument over whether the owner needs planning permission.
The flags are flying at an angle at the Glan Aber Hotel in Betws-y-Coed.
A complaint was made to the Snowdonia National Park Authority that only vertical flags are exempt from planning permission.
Owner Frank Wilson called a letter from the authority "petty". However, no action will be taken.
A spokesman for the national park said that following a complaint, its officers had noted the angle of the flagpoles.
"According to town and country planning regulations, the display of a national flag is normally exempt from advertisement control, provided the flag is being displayed on a vertical flagstaff," he said.
"However, this was not the case here."
While the authority wrote a letter to Mr Wilson pointing this out, it said no action would be taken.
However, the spokesman said the fact he has not applied for advertising consent means there could be "consequences" if the owner tries to sell the hotel in the future.
Mr Wilson said he would not apply for permission and vowed to ignore the letter.