RAF Valley jets 'unbelievably loud', court hears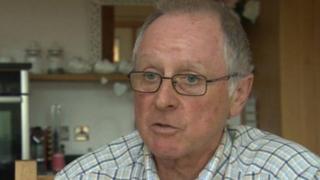 A man accused of endangering RAF jets at Anglesey by shining a powerful torch at them has told a jury flights could be "unbelievably loud".
John Arthur Jones told Mold Crown Court "things got bad" with jets flying in and out of RAF Valley in 2007.
Mr Jones, who owned properties in Bodfordd, said he wrote to the base commander in 2010 to raise concerns.
He denies 13 charges of endangering aircraft between November 2013 and September 2014.
The jury was told about his correspondence which outlined how "things could be changed for local people".
He stressed that he strongly supported the need for such training but he said flights could be "unbelievably loud and distressing".
Prosecutor John Philpotts told the trial that when Mr Jones was interviewed, he alleged pilots were deliberately harassing him by flying over his property from RAF Valley.
He said he only went outside to inspect his property with a torch and may have, on one occasion, instinctively shone it upwards as a jet passed by, but it was not deliberate.
Defending, Lisa Judge said Mr Jones was not even at home when some of the offences were alleged to have happened.
He told the court on one night he was staying at a hotel in Manchester and having dinner at Rio Ferdinand's restaurant and on other nights he was visiting his parent's grave in Llantrisant and collecting hay for his wife's horse.
Asked why he had searches on his computer for "long throw LED torches," Mr Jones explained he had considered taking a lease on a Welsh Water-owned fishing lake but knew they would require sophisticated safety equipment, including lighting, to identify people on the water.
The case continues.