RAF Valley jet aborts take-off on Anglesey because of birds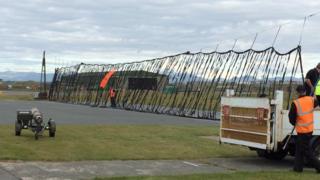 A RAF jet had to abort take-off on Anglesey because of a flock of birds.
The pilot had reached speeds of around 100 knots when the birds appeared in front of the plane at RAF Valley.
He aborted take-off and went through the crash barrier on the runway. He was left shaken but unhurt.
Sqn Ldr Dave Williams said the jet remained on its wheels and came to a stop close to the beach. "It's what we train for and why we have those barriers," he added.