Teacher brothers guilty over child indecent images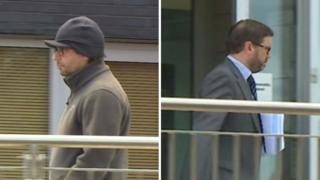 Two teacher brothers from Gwynedd have pleaded guilty to possessing and making indecent images of children.
Former TV host Robyn Wheldon-Williams, 39, a chemistry teacher in Caernarfon, admitted having 1,399 indecent images of children, 78 movies, and making images.
Dyfan Wheldon-Williams, 42, a Blaenau Ffestiniog teacher, admitted possessing 40 indecent images, extreme images involving dogs and making images.
They will be sentenced in July.
The pair, from Bontnewydd, Caernarfon, were remanded on conditional bail for pre-sentence reports during the hearing at Caernarfon Crown Court.
Robyn Wheldon-Williams used to present a science programme on the Welsh-language S4C channel and held a world record for enclosing the most people in a bubble.
Jude Rhys Rowlands said there were a "significant" number of category A images, the most serious type, in his case and the starting point for his sentencing was jail.
But he warned both defendants to be "prepared for all potential sentences when you return to court".
Gwynedd council said the pair had been suspended from their posts.