Euro 2016: Bala becomes Bale in honour of Gareth Bale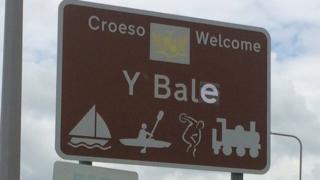 The north Wales town of Bala has temporarily changed its name to Bale in honour of international football star and Wales striker Gareth Bale.
All four of the main signs to the Gwynedd town have been altered to coincide with the Euro 2016 group stage match against England.
Local councillor Dilwyn Morgan said he was "100% behind the move".
The signs will be up for the duration of Wales' time in the competition.
Mr Morgan said: "It's a great way to honour Gareth Bale and get behind the Welsh squad for Euro '16.
"Gareth Bale is an international sporting star and this move should put Bala, sorry, Bale, on the international map."
Mari Williams, editor of local newspaper Y Cyfnod, said: "This shows the lengths fans will go to in order to support the squad."