Caernarfon woman's £49,000 con to feed gambling addiction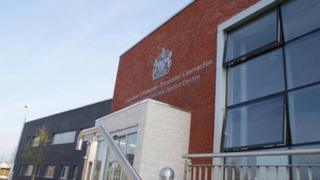 A gambling addict who swindled an ex-boyfriend out of £48,800 while racking up a £75,000 debt has been jailed for 28 months.
Andrea Jones of Caernarfon, Gwynedd, told the 66-year-old Parkinson's disease sufferer she needed it to pay for cancer treatment, the town's crown court heard.
Instead it was part of £240,000 she spent on an online casino between 2011 and 2014, losing £75,000.
Jones was jailed after admitting fraud.
The court heard Jones "begged" the man for the cash, claiming she was suffering from cervical cancer.
Prosecutor Richard Edwards said it had "devastating consequences" for the victim, who took out pay-day loans in order to raise the money and now has £80,000 debts himself.
Defence barrister Dafydd Roberts said Jones started gambling to escape other problems and became addicted.
In sentencing her, Judge Philip Harris-Jenkins said: "You took advantage of a friend that you had for many years."