Fatal Llanrwst tumble dryer model involved in other fires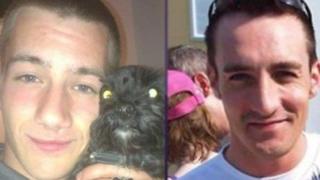 The model of tumble dryer in a flat where two people died in a fire in Conwy county has been involved in at least three other previous incidents, a pre-inquest hearing was told.
Bernard Hender, 19, and Doug McTavish, 39, died in a flat fire above a funeral director's office in Llanrwst in the early hours on 10 October 2014.
An investigation found the fire started in a tumble dryer.
A second pre-inquest hearing was told the appliance was a Whirlpool TVM570.
Larry Latack, director of global product safety on behalf of Whirlpool UK Appliances Ltd, said in a statement on Thursday three other incidents involved the same model between 2010 and May 2016.
However, none of these had resulted in any injury.
David Lewis, assistant coroner for North East Wales and Central, said it appeared thousands of the Whirlpool TVM570 model were in use throughout the country and the case may be relevant to a wide part of the population.
He said he was "minded" to hear the inquest with a jury but had yet to decide.
The full inquest is expected to be held later in the year.