'Despicable' vandals destroy Remembrance poppies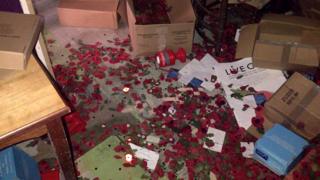 Vandals have destroyed thousands of pounds worth of Remembrance poppies being stored in Caernarfon, Gwynedd.
The incident was uncovered in a storage facility in the town on Wednesday morning.
Police said offenders had broken into the building on Skinner Street some time in the last week.
"This was a despicable crime whereby the poppies were destroyed in a pure act of vandalism," said Sgt Rhys Gough, from North Wales Police.
"Nothing was stolen from the facility which means the offenders have done this purely out of malice."
The poppies were scattered around the building, and were left unusable and had to be thrown out.