Hillside fire across 300 acres spread from a garden bonfire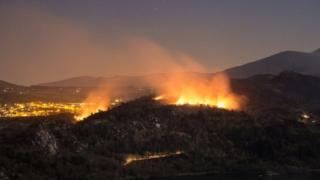 Firefighters say investigations into a 300 acre hillside blaze in Snowdonia now suggest it probably started in a garden bonfire.
The fire destroyed an area more than twice the size of Cardiff's Bute Park on land above Fachwen, near Llanberis, in Gwynedd.
It took nine hours to extinguish the flames on Wednesday and Thursday.
North Wales Fire and Rescue Service had initially blamed landowners for out-of-season gorse clearance.
But on Friday, the force confirmed further inquiries established the fire had spread from a garden blaze.
"When the officer in charge spoke to those involved, it wasn't the landowners at fault," said a spokesman.
"The out-of-control burn had spread from a neighbour's garden fire."
In addition to grass, gorse and bracken damage, the fire spread to woodland in the area, and smoke could be seen from more than 10 miles away.