Hillside fire in Snowdonia destroys gorse and woods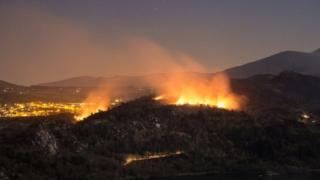 Firefighters in north Wales say landowners must stick to rules on clearing gorse and bracken, after a fire spread across 300 acres.
Five fire engines and 20 beaters had to be deployed to slopes above the village of Fachwen near Llanberis, Gwynedd, on Wednesday and Thursday.
It took nine hours to extinguish, with smoke visible from 10 miles away.
The blaze also spread to woodland - eventually covering an area more than twice the size of Cardiff's Bute Park.
North Wales Fire and Rescue Service said it was initially called to the hillside just before 15:50 BST on Wednesday, and finally finished nine hours later.
An initial investigation suggested that the fires were the result of a controlled burn of grass getting "out of control".
Officials said farmers and landowners needed to be reminded of their duty to "burn responsibly" and to involve the force before attempting to clear land with fire, as part of a 'call before you burn' campaign.
The fire service said it was also out-of-season for controlled burning, with gorse and bracken home to nesting birds and other breeding wildlife.