Campaign to bring Conwy civic hall back to life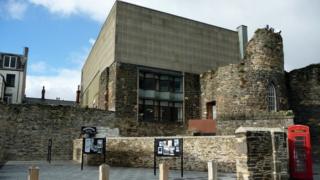 A campaign has been launched to turn the Grade-II listed Conwy civic hall and theatre into a community-run venue.
Conwy council wants to lease the former town hall, which houses the town's library, to private developers.
But residents say the 240-seat theatre, unused since 2014, should be regenerated "for the community, by the community".
A group is now bidding for heritage lottery funds to take over the building.
Campaigner Tony Franks said: "We have a reasonably sized town with no community hall where we can have meetings or hold events.
"The council just want to make some money out of the hall, but they have taken no account of public feeling about the issue.
"It should be run for the community and by the community."
The civic hall, located next to Conwy quay, is the county's third largest theatre after Venue Cymru in Llandudno and Theatr Colwyn.
The upper floor theatre was used by local groups until 2014, when the council deemed it "unfit for use". Last year, it was placed on the Theatre Trust's 'at risk' register.
The community group has teamed up with Purcell Architects and heritage consultant Mark Pavey, who worked with the Colwyn Bay Victoria Pier trust.
Mr Pavey said: "Independent shops and restaurants give Conwy its unique character. The community would be happy to team up with a developer - but they would need to be the principal partner."
'Waterside location'
The original hall was built at the end of the 19th Century, but burned down in 1966. It was rebuilt with the theatre as a concrete structure on top of its original remaining walls.
In 2013, a community interest group - Ciwb Conwy Cube - created a proposal to take over the venue, which was rejected by the council.
The library is being moved to the proposed new Conwy culture centre, which would also include a community heritage and arts hub, archive, and youth centre.
A council spokesman said: "The council's aim is to support regeneration and add to the quality tourism offer in Conwy with a sustainable development, which can capitalise on this significant waterside location whilst considering the sensitive nature of the world heritage site of Conwy town.
"The council will welcome further expressions of interest, including consortium approaches, as part of the new procurement process."