Three prisoners gain access to Swansea Prison roof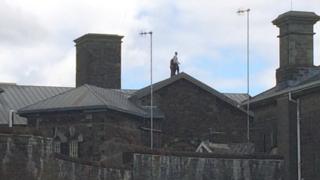 Three prisoners gained access to the roof of Swansea Prison, it has been confirmed.
The men had been on the roof since 09:50 BST, the Prison Service said.
Specialist prison staff had worked to "resolve this as quickly and safely as possible" and the offenders were now down, a spokesman added.
Bob Griffiths, from Bridgend, who saw the men on the roof, said they were shouting at each other and other prisoners were shouting from the cells.
Fire engines are at the scene but Mid and West Wales Fire Service would not give any details while South Wales Police said it was not involved.