Radio Ysbyty Gwynedd hospital radio marks 40th birthday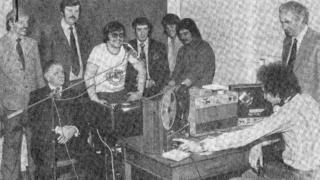 Hospital radio in Gwynedd is celebrating 40 years of broadcasting.
Radio Ysbyty Gwynedd was launched in April 1976 in the hospital lecture theatre next to an assortment of specimen jars and a fake skeleton.
Its first programme included an introduction from the chairman of Gwynedd Health Authority, followed by "Spotlight on the Staff", "Down Your Ward" interviews and record requests.
It now broadcasts 24 hours a day from a studio in the main corridor.