A55 death crash: Lorry driver's 'fatal' sat-nav error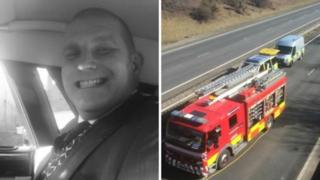 A lorry driver made the "fatal error" of fiddling with his sat-nav just before he killed a father in a crash.
Nicholas Clough failed to see traffic had slowed down for roadworks and hit the vehicle Daren Longden, of Leeds, was in, Caernarfon Crown Court heard.
The crash happened on the A55 near Abergele, Conwy county, in March 2015.
Clough, 36, of Bromborough, Wirral, admitted causing death by dangerous driving and was jailed for three-and-a-half years on Monday.
After the hearing, police released footage of the crash, with the agreement of the families, as a warning to drivers to pay attention when behind the wheel.
The court heard that a few minutes before the crash, Clough took a call from a colleague looking for an address in Birkenhead and was searching for it on his sat-nav.
Prosecutor Matthew Curtis said: "It's a case of dangerous driving because of the elements of distraction."
Clough had driven from Widnes in Cheshire that morning while Mr Longden was heading from his home to Colwyn Bay, working for a roofing firm, and had been a front seat passenger in a Ford Transit pick-up.
The court heard Clough slammed on his brakes less than two seconds before the crash and hit the Transit at 37mph (59km/h).
The pick-up was sandwiched between Clough's wagon and another lorry.
Recorder Peter Griffiths QC said: "Your fatal error was to fiddle about with your sat-nav in order to assist him [his colleague].
"It's quite clear from the recording I have seen and audio transcript that when that call ceased before the accident occurred you had indicated you would call him back if and when you found the relevant information."
Defending, Peter Horgan said: "This is a man who is genuinely wracked with remorse. On this occasion he's made a mistake he will have to live with for the rest of his life."
Clough was also banned from driving for two-and-a-half years.