50 jobs 'at risk' at north Wales RAF jet training base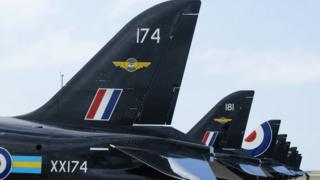 At least 50 jobs are under threat at RAF Valley on Anglesey as the base phases out older Hawk training jet planes, a trade union has warned.
The T1 model of the jet is being withdrawn by the summer, but replacements will not arrive for another year.
The Unite union says it will leave some ground crews employed by Babcock Defence Services out of work.
Babcock said it was "doing all we can" to support staff.
The jobs threat comes despite recent announcements for RAF Valley, securing its future as the fast-jet training centre for the air force.
Last week, the Ministry of Defence confirmed that contracts worth £372m to help train Typhoon and Tornado pilots would secure 470 posts at the Anglesey base.
The site is currently switching to training pilots using the newer T2 model of the Hawk jet.
"The problem we have is a time delay of about 12 months before the T2 flying hours are increased in April 2017," explained Daryl Williams, from Unite.
"They will need an increased workforce on the ground to cope with the ramping up in 2017, but the difficulty is there's not enough work to keep everybody on the ground employed until that happens."
The union official said 53 posts were affected, and a 45-day consultation period was now underway.
An RAF Valley spokesman said the ground crews issue was a matter for Babcock.