Battle of Waterloo medals gifted to Wales in tax deal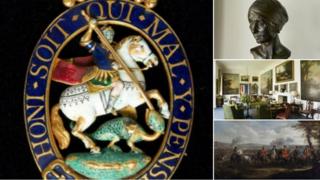 Rare artefacts, including Battle of Waterloo medals and insignia, have been given to Wales in a deal over inheritance tax.
It means the collection can remain on display at the family seat of the Marquess of Anglesey at Plas Newydd.
The National Trust-owned country house was home to the 7th Marquess who died in 2013.
Henry William Paget was the 1st Marquess and famously lost his leg in a cavalry charge at Waterloo.
The collection is known as the Plas Newydd Chattels and includes 35 paintings, 13 pieces of furniture, two busts and two groups of medals.
The Most Noble Order of the Garter of the 1st Marquess and his Lesser George Badge and breast star are among the items. They would have been worn with his garter robes.
The Marquess led a spectacular charge of the heavy cavalry at Waterloo before being hit by cannon fire.
According to the anecdote, he exclaimed to the Duke of Wellington: "By God, sir, I've lost my leg!" - to which Wellington is said to have replied: "By God, sir, so you have!"
He was made a marquess a few weeks later in recognition of the Waterloo victory, and a 90ft (27m) column commemorates his battlefield exploits not far from Plas Newydd.
"The collection being transferred is of immense significance to Plas Newydd, both in securing its authentic family home presentation and in telling the story of its development from summer retreat to principal country seat, and the importance and influence of some of the major players in its past," said Justin Albert, National Trust director for Wales.
"These pieces will now be able to continue giving this pleasure and enable visitors to connect with the Anglesey family, present and past."
The collection has been accepted by the Welsh Government as part of the Acceptance in Lieu scheme, which allows for items of historical or artistic significance to be given instead of inheritance tax payments.