Gardener Karl Alexander defrauded 91-year-old of £300k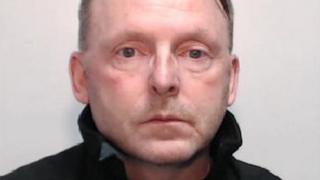 A landscape gardener who befriended a 91-year-old former bank executive and defrauded him of nearly £300,000, has been jailed for three years.
Karl Alexander, from Hyde, Greater Manchester, took money over 16-months from widower Dennis Jezzard and also sought power of attorney.
Alexander, who admitted fraud, even tried to sell the victim's Old Colwyn home, Caernarfon Crown Court heard.
Judge Niclas Parry said the 49-year-old's actions were "despicable".
The court heard Mr Jezzard, who has since died, had found a landscape gardener through the Yellow Pages.
John Philpotts, prosecuting, said Mr Jezzard had "some very good neighbours".
One of them Gareth Jones, a former head of North Wales Police CID, became particularly concerned because the gardener was seen to work on the roof.
'£91,000 invested'
The court heard it appeared this man was exercising some control over Mr Jezzard's life and there was a strong suspicion that his car had been sold at an under-valued price.
Then Alexander began to travel from his home at Morecambe, Lancashire, and to work his way into the victim's confidence, the court heard.
Savings certificates were transferred and £91,000 was "invested" in Morecambe Motor Homes and following the failure of that business he set up a house rental business, Alexander Rentals.
Mr Philpotts said Mr Jones contacted the victim's nephew and only relative Peter Wilks and social services and then the police became involved.
In his bid to manipulate Mr Jezzard's life, the defendant had even sought power of attorney, and Mr Wilkes discovered documents had been taken from his uncle's safe.
Mr Philpotts said the fraud amounted to £291,511 of which £227,575 was now available to pay back.
The court was also told Mr Jezzard had at first described Alexander as his friend. Alexander had even tried to sell Mr Jezzard's home, but had been thwarted by an estate agent.
When the old man was in a care home Alexander had tried to move him to one at Morecambe.
Nicola Gatto, defending, said married father-of-two Alexander had accepted his wrongdoing and had cooperated with a financial investigation.
"He lost his own father in 2010 and in a way Mr Jezzard became a father figure to him," said Miss Gatto.