200-year-old Mary Jones bible returns to Bala, Gwynedd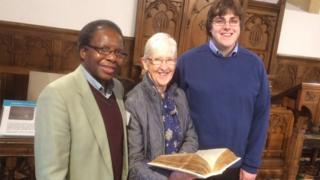 A 200-year-old copy of a bible which a 15-year-old girl walked 26 miles to purchase has returned to Gwynedd for three days.
The Bible Society has returned Mary Jones' book to Bala, where she originally purchased it in 1800 from Rev Thomas Charles.
She saved money from the age of nine for the trip, which moved Rev Charles to help set up the society.
It led to countless copies being translated, produced and distributed.
The bible has returned for a temporary exhibition at the Mary Jones World visitor and education centre after being stored at the Bible Society Archives at Cambridge along with other copies in different languages.
Mary Thomas, secretary of the Bible Society Action Group, said many people would have walked a long distance to obtain a copy of the bible but Mary's story had been held up as an example.
"Her story is better known in foreign parts than it is here," she said.