Gwynedd lifeguard's 50-year jail-term appeal considered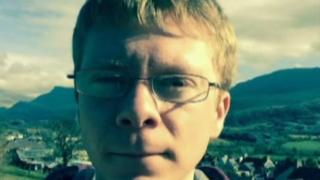 Lawyers for a former Gwynedd lifeguard jailed for 50 years in the United States for raping a 10-year-old girl have submitted a notice to appeal.
Gareth Vincent Hall, 22, from Talysarn, was jailed after admitting four counts of rape, two of serious sexual offences and one of online sexual corruption of a child.
His lawyers now have three months to review the case and submit an appeal.
The sentence with no parole means he will not be released until he is 72.
According to the US Federal Bureau of Investigation (FBI), Hall flew to Oregon last April, hired a car and took the girl to a hotel after contacting her online. Her family learned of the rape after he returned to the UK.
'Fairly limited'
He was arrested at O'Hare Airport in Chicago in May after flying back to the US.
Chief Deputy District Attorney Erik Hasselman explained the notice of appeal, while relating to the length of post-prison supervision which has been set at 100 years, gave Hall's lawyers time to review his case and potentially challenge the length of his sentence.
"When a defendant pleads guilty in a criminal case, his rights to appeal are fairly limited," he said.
"The appeal usually must claim the sentence the judge imposed was unlawful in some respect.
"If the judge exceeded his authority or the sentence 'shocked the conscience of an ordinary person' that could be a basis for an appeal. But the sentencing judge addressed that issue saying he did not think that it did."
Mr Hasselman said the next step was to wait until transcripts of the court proceedings were available.
The whole process could take about two years.