Husband 'can't remember' school run attack on wife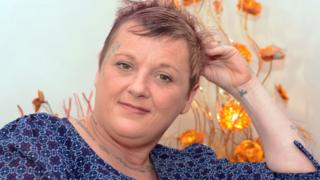 A man who attacked his wife in the street while walking their three children to school told police he had no memory of the incident, a court has heard.
Sylvan Parry, 46, from Caernarfon, Gwynedd, denies attempting to murder Fiona Parry on 3 September.
The jury at Mold Crown Court was told when police asked Mr Parry about the incident he said: "I cannot remember".
He told police: "She must have said something stupid."
The court heard when interviewed Mr Parry said he had argued with his wife earlier that morning because she wanted amphetamine and they continued arguing on the school run.
"Both of us were bouncing off each other, calling each other names", he said.
Three firefighters overheard the attack and intervened to help Mrs Parry.
'Feel sick'
Mr Parry told police he remembered a firefighter shouting his name and it was "as if I was awake again".
In his second police interview, he said: "I didn't even mean to do what I have done.
"It makes me feel sick that I will never see her again.
"My intention was not to kill her or nothing. But I cannot remember what I have done. All I remember are the firemen screaming at me."
Earlier, the court heard Mr Parry had kicked his wife "like a footballer kicking a football.
Alun Rowlands, one of three firefighters who intervened to help, said Mrs Parry was left "grotesquely swollen from horrific injuries".
He told Mold Crown Court he saw Mr Parry stamping "with all his strength".
He said: "I saw a man stamping on someone, he was stamping very hard with all his strength, seven or eight times.
"And kicking as well, like a footballer kicking a ball into a goal, like taking a penalty as hard as he could."
The trial continues.