Cash to restore Colwyn Bay's Fairy Glen Nature Reserve waterway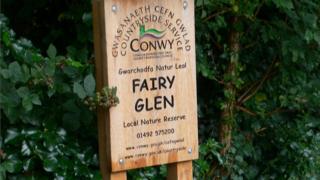 Work to reinstate a waterway in a Conwy county woodland is to start next month after the project was awarded £39,000.
The money, from conservation funding body Wren, will be used to help Fairy Glen Local Nature Reserve's leat flow once again.
Bat boxes and a new notice board will also be installed and work to control non-native species will be carried out.
The leat, next to the River Colwyn, originally fed a waterfall feature and a nearby mill pond in the 1900s.
Work will start in March and is expected to take four to six weeks.